Natural Goat Milk Soap | Exfoliating Body Bar | Humboldt Scrub
Regular price

Sale price

$5.75
Bulk buy discounts applied during checkout. Soapy deals excluded.
Don't Forget Your Soap Dish!

We have several draining soap dish styles - Shop Now!
About This Product

Humboldt Scrub is a natural goat milk exfoliating soap. The exfoliate in the body bar is a natural cosmetic-grade ground walnut shell.

Men love this woodsy scented bar in the shower, and Dermatologists recommend it for skin conditions.


Humboldt Scrub Details:

Luxury natural soap made with fresh goats milk
4.3-ounce bar
Dermatologist recommend

Ingredients: fresh goat milk; olive, coconut, palm kernel; almond oils; shea butter; sodium hydroxide; castor oil; finely cosmetic grade ground walnut shell; and 100% phthalate-free fragrance. 

Ships in 1-2 days.
Ethically Sourced & Made in the USA

With five generations on the Fern Valley Goat Milk Soaps farm, we take immense pride in crafting farm fresh handmade soaps of superior quality.
Ships within 2 business days

We ship USPS Priority Mail within 2 business days. You will receive a tracking number when your order ships.
Share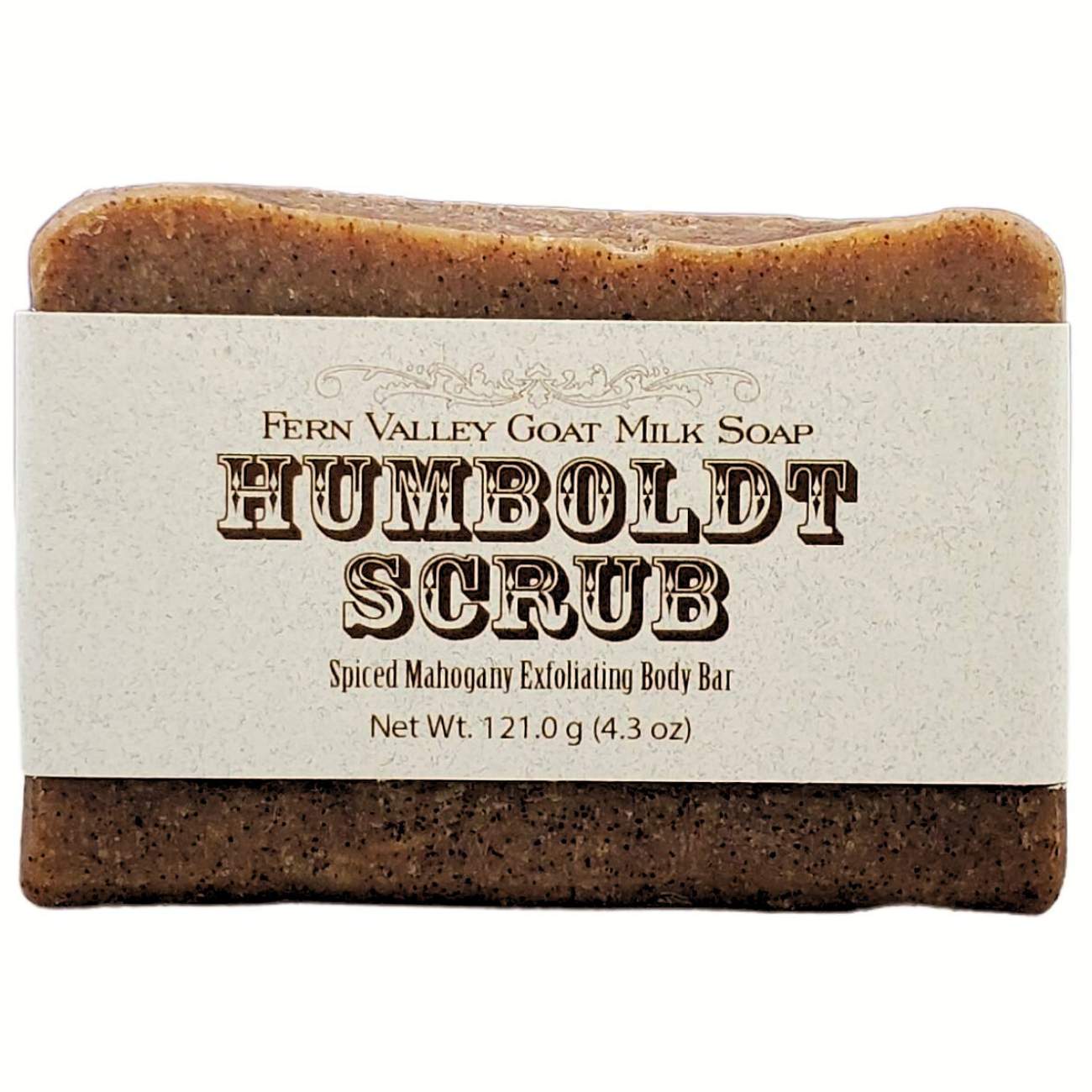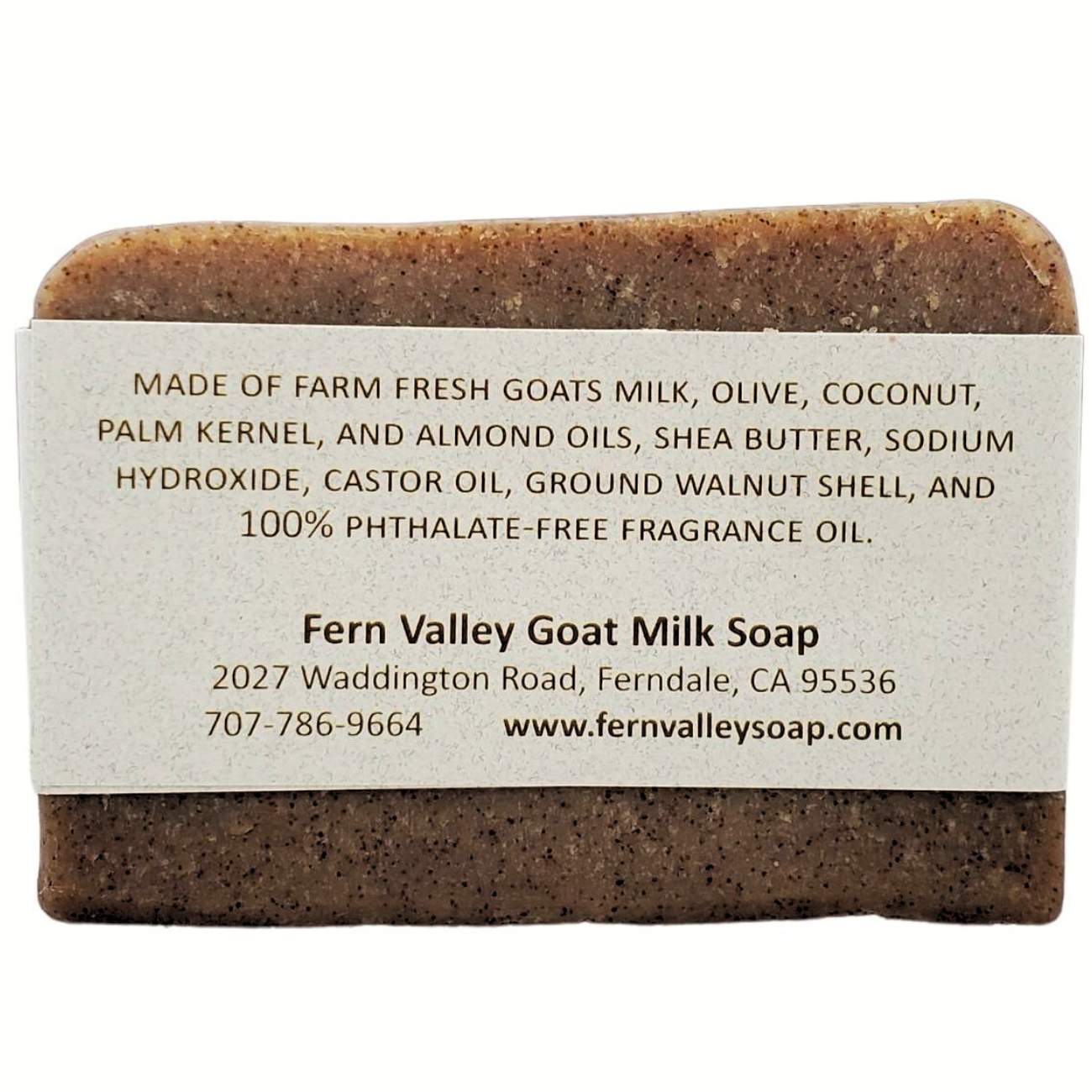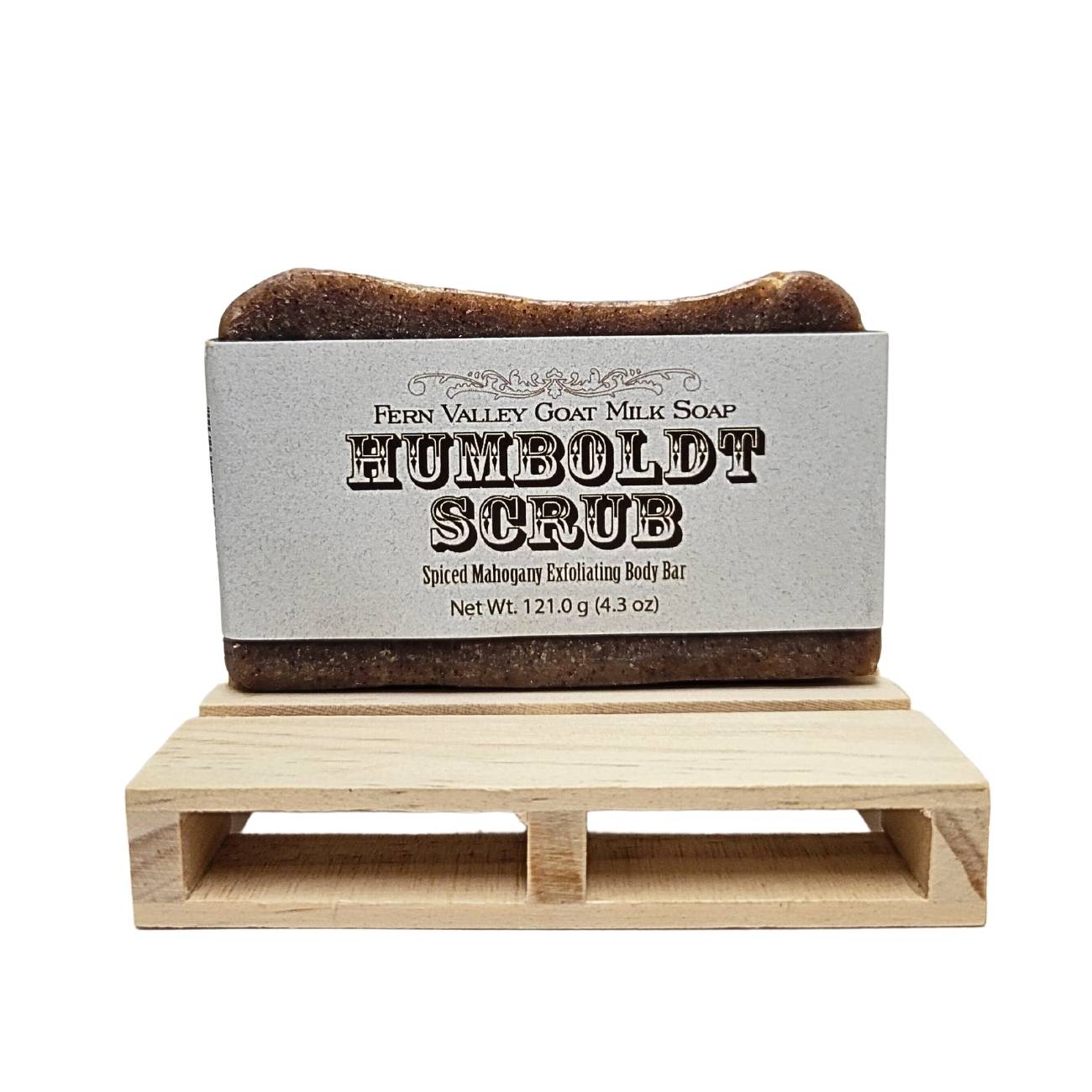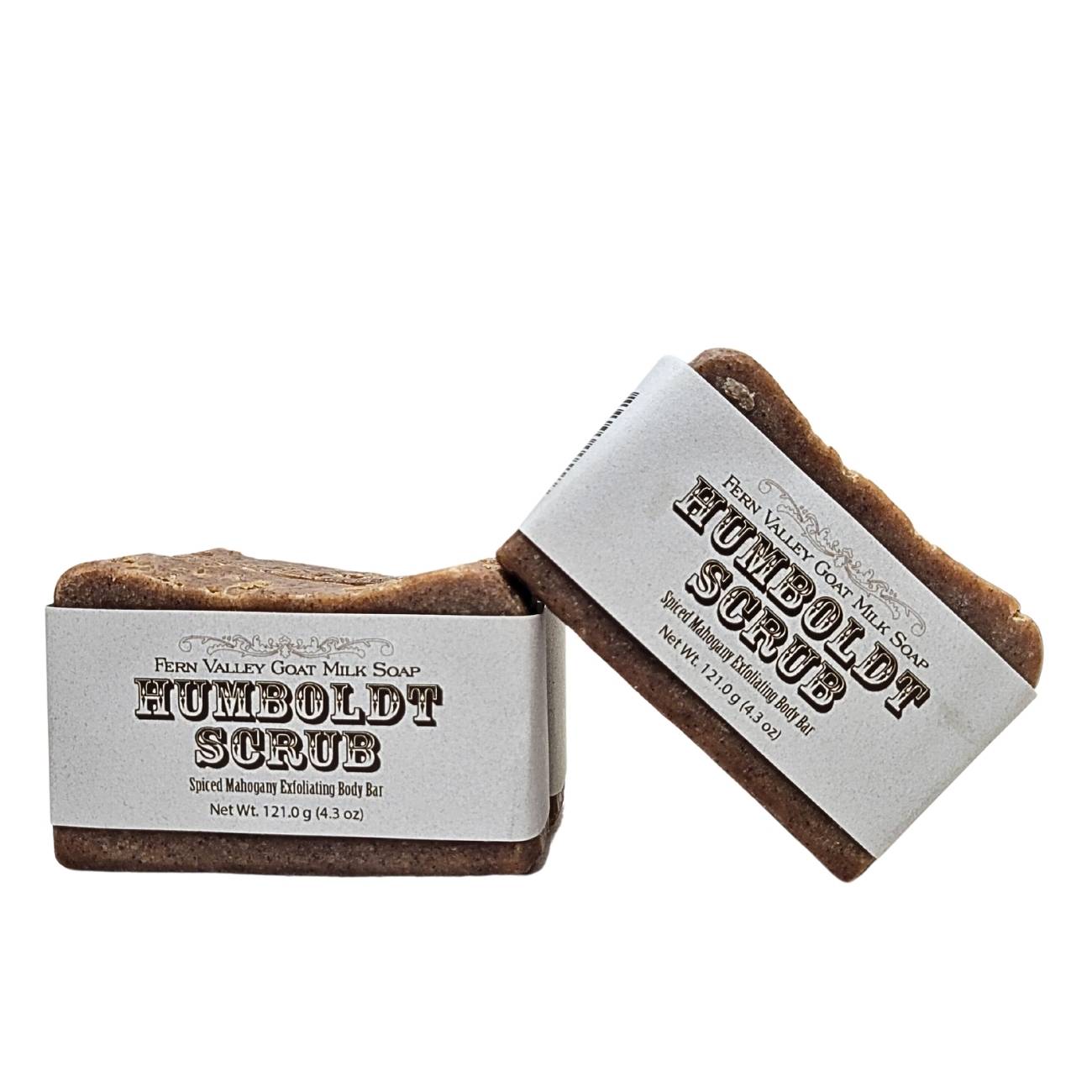 The Holidays Are Coming // Shop Gift Ideas
Great
Smell great and works beautifully
Best soap ever!!!!
I love the smell, the texture with the walnut shells makes it's nicely exfoliating. seriously the best bar soap out there!!'n
The BEST smelling and moisturizing soap!!!!
I found a bar of Fern Valley goat milk soap at a shop on our vacation up north and absolutely fell in LOVE with this product! We initially purchased the Mahogany scrub bar and loved it so much that we placed a web order once we got home for the lavender moisturizing bar. The soap is such a good price that I ordered a bunch extra and give them out as gifts throughout the year. We are a Fern Valley soap family now! I won't use anything else.
Obsessed
I can't live without the Humboldt Scrub Sweet Pea Exfoliating Body Bar now… it's helped the KP on my arms along w/ ingrown hairs on my legs & bikini line… warning: it's very scratchy!! But I absolutely love it 😍 I also love the shaving soaps… I feel like they work better than a cream and you don't have the extra waste of an aerosol can!!
Awesome
I love all the soaps I buy. They're wonderful. Some of the best I've used!!
Thanks 😊
Love this soap! It smells good & makes my skin feel good. Very fast shipping also! I bought the soap for my pet too & it's helped a lot with her dander. Thank you so much
Natural Goat Milk Soap | Exfoliating Body Bar | Humboldt Scrub
I love this soap! Timely arrival and fun samples included in the package!
Natural Goat Milk Soap | Exfoliating Body Bar | Humboldt Scrub
Smells amazing and leave hands feeling super soft. Lasting scent and good exfoliation, feels great on skin and leaves you moisturized but not oily.
Natural Goat Milk Soap | Exfoliating Body Bar | Humboldt Scrub
I have sensitive skin and this soap has done wonders! The exfoliation from the bar feels amazing, and the Sweet Pea smell is lovely without being overbearing. I even had my boyfriend try this soap and he is hooked too! \nAnother thing that I really love about this soap, is that is long lasting. I have found in the past that handmade, natural soaps disintegrate in the shower faster than store bought soaps, but not in this case!\nI haven't tried the other two bars that I ordered, but I'm sure they are going to be just as amazing. \nHIGHLY RECOMMEND! Thank you FernValleySoap :)
Natural Goat Milk Soap | Exfoliating Body Bar | Humboldt Scrub
Shipped promptly.\nI Am a repeat customer,