Natural Goat Milk Soap | Humboldt Hands Heavy-Duty Hand Cleaner | Original Woodsman
Regular price

Sale price

$6.50
Bulk buy discounts applied during checkout. Soapy deals excluded.
Don't Forget Your Soap Dish!

We have several draining soap dish styles - Shop Now!
About This Product

Humboldt Hands is a natural handmade goat milk soap for people that work with their hands. It is tough on grease, grime, tree sap, barn muck, and plant resins. Humboldt Hands is an alternative to drying pumice soaps. This heavy-duty hand cleaner rejuvenates your skin. It is an excellent mechanic and garden soap. 

This is a great-smelling soap that works. Everyone enjoys the warm, fresh, and spicy scent with spicy berries, citrus, lavender, and amber, reminiscent of the Drakkar man's cologne. Original Woodsman is where this all started, and it continues to be a customer favorite. 

Original Woodsman Details:

Alternative to drying pumice soaps
Grease Remover
Rejuvenates your skin
Generous size - 5-ounce bar
Luxury natural soap made with fresh goats milk
Great smelling soap in a man's cologne fragrance

Ingredients: fresh goat milk, coconut, almond, olive, palm kernel oils, shea butter, castor oil, ground walnut shell, and 100% phthalate-free fragrance oil. 

Ships in 1-2 business days.

 
Ethically Sourced & Made in the USA

With five generations on the Fern Valley Goat Milk Soaps farm, we take immense pride in crafting farm fresh handmade soaps of superior quality.
Ships within 2 business days

We ship USPS Priority Mail within 2 business days. You will receive a tracking number when your order ships.
Share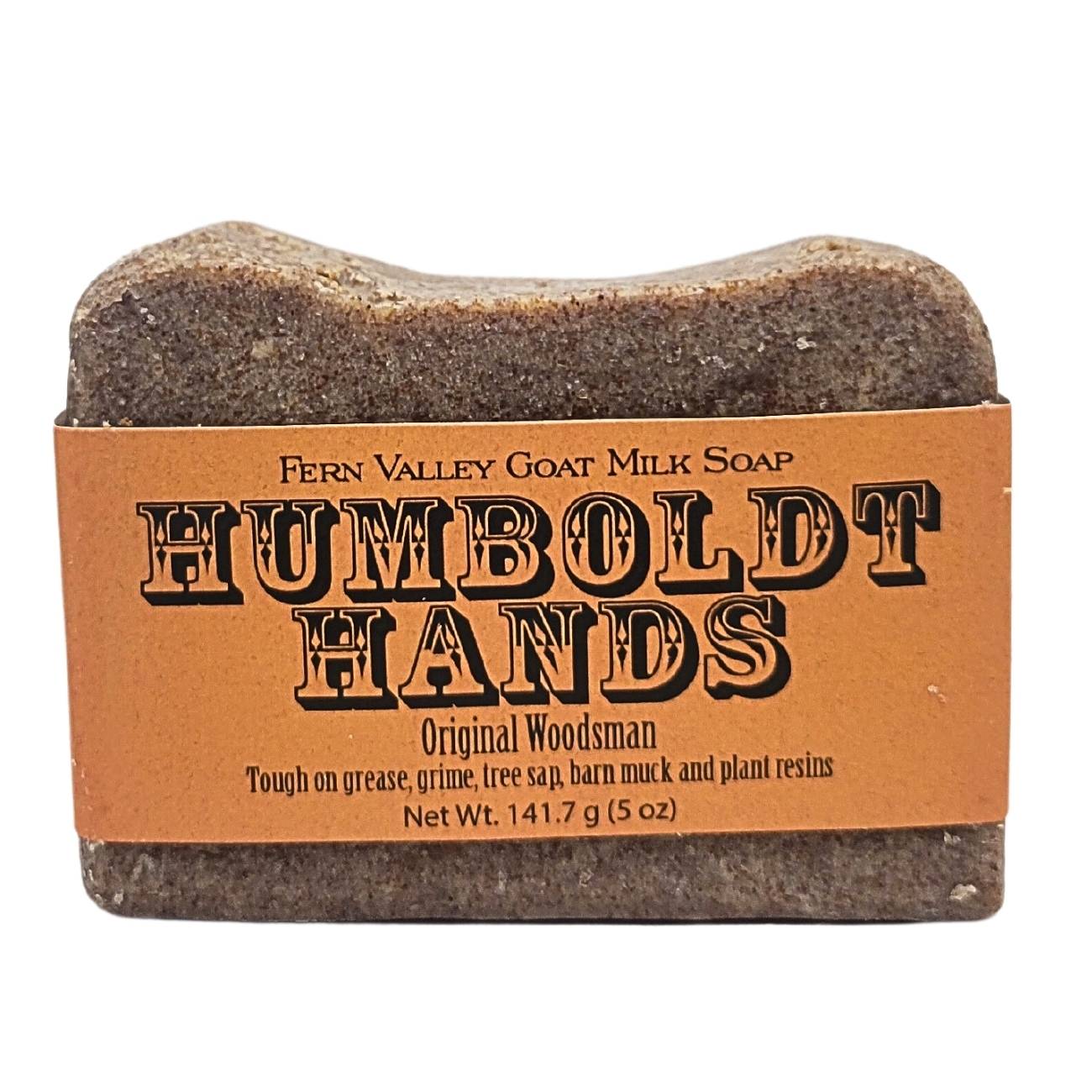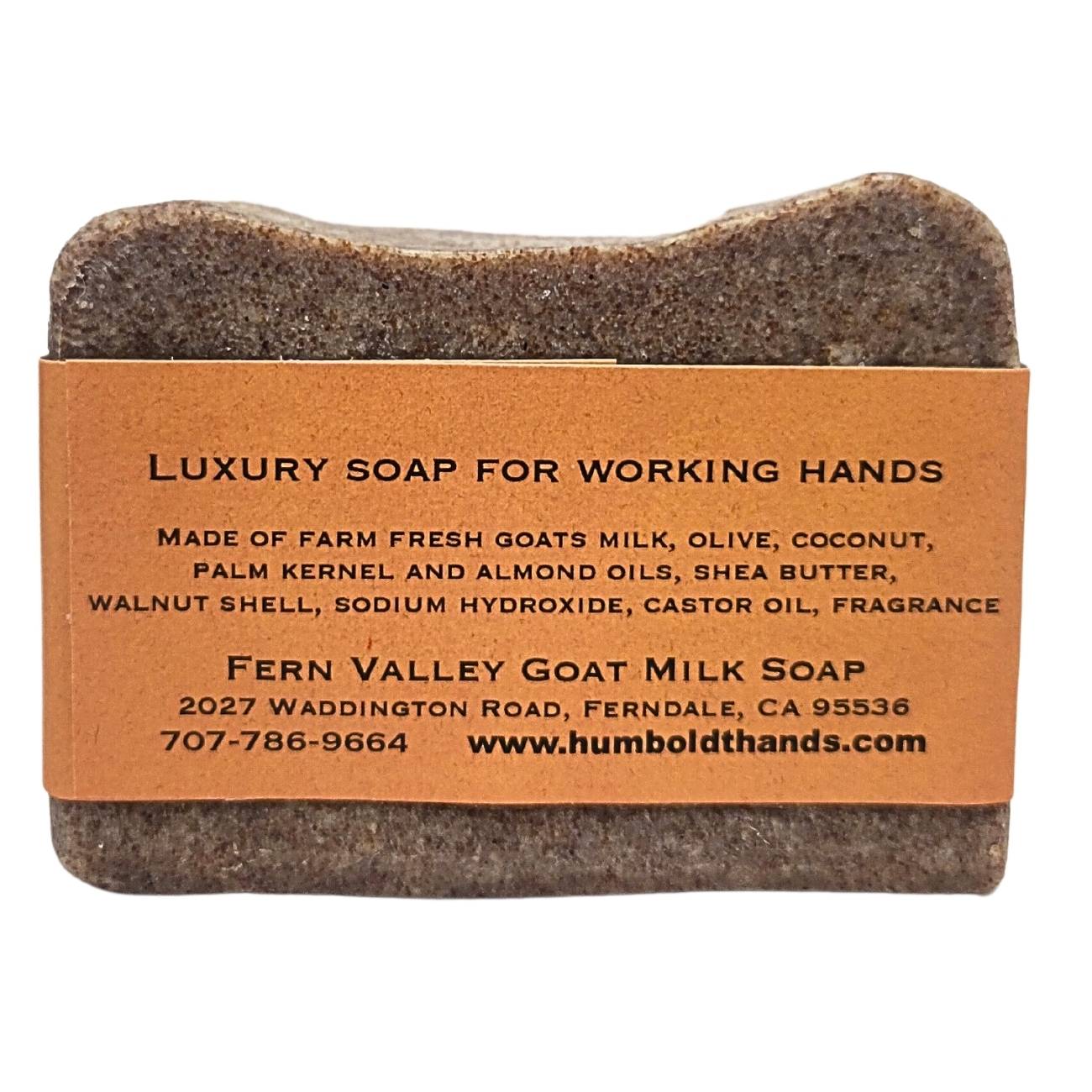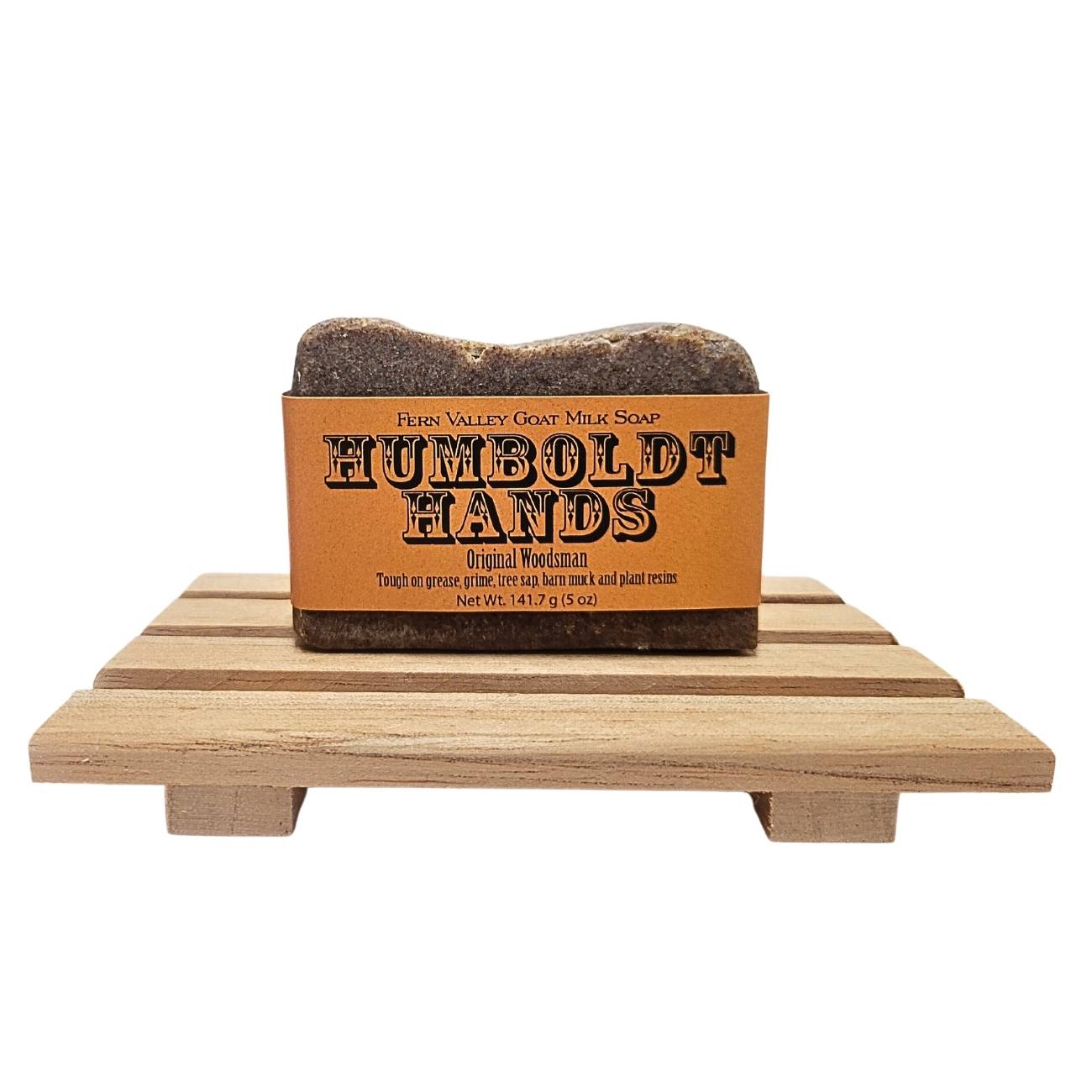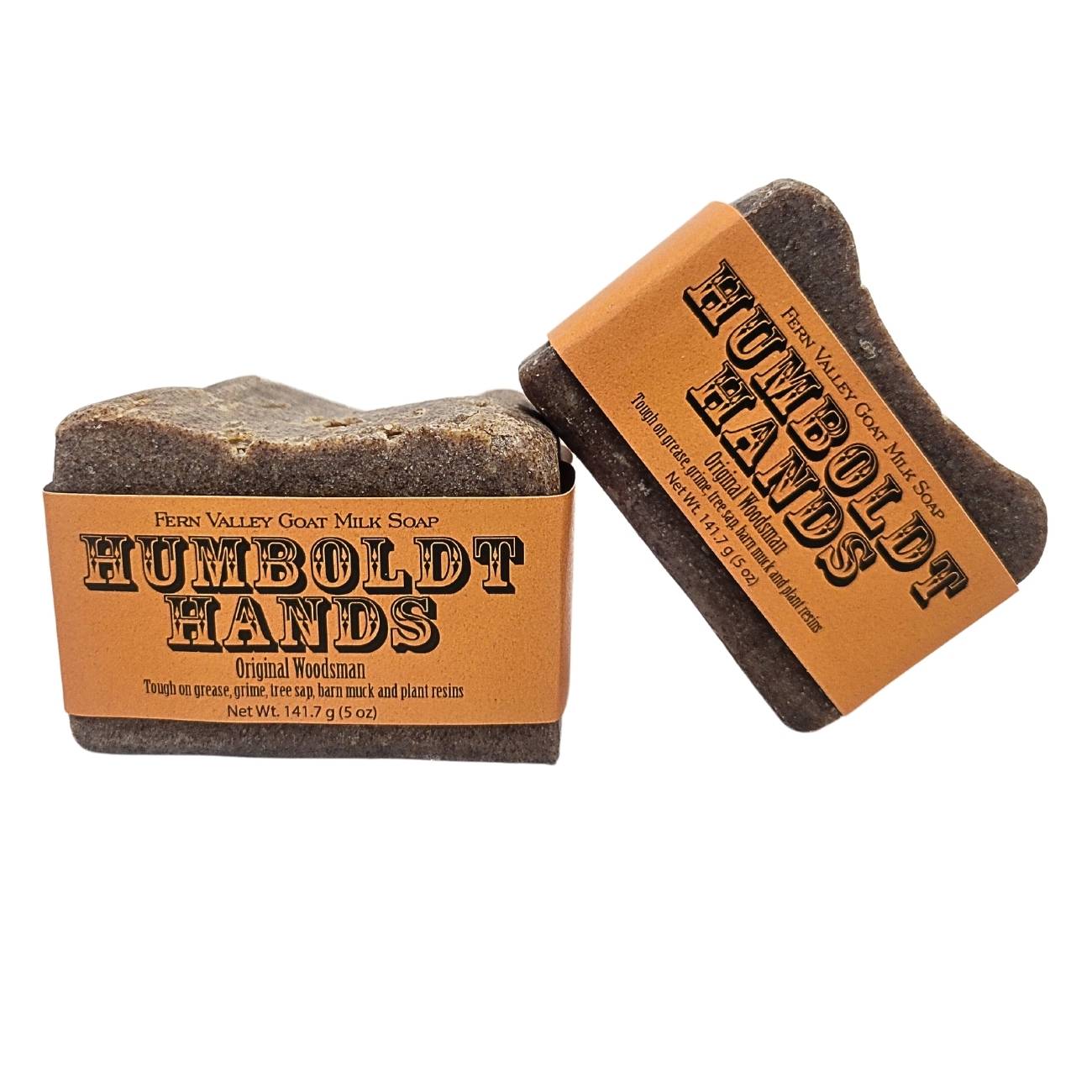 The Holidays Are Coming // Shop Gift Ideas
Clean
I started using this brand sometime back when I was tired of the Green bar Irish soap leaving me feeling like I had a waxy layer on my body, that frankly stunk. To my surprise the Humboldt hands soap didn't leave a buildup and allowed my skin to clear up from the occasional little pimples caused by the other nasty stuff. I like the tobacco bay scent... my skin isn't dry and itchy anymore. Thank you for having this product and making quality soaps.
Love Humboldt Hands Soap
I bought the first bar of the Original Humboldt Hands soap for my husband nearly 8 years ago, and he's been using it ever since. After working on the cars, or in the yard, he knows this soap will get the grime and dirt off his hands.
Amazing soap and fantastic service
Our friends brought a bar of this soap to my husband and he was skeptical at first. He wasn't sure about the texture or the scent (he has always been a lavender guy) but was completely hooked after a couple of days. Powerful cleaning and keeps his skin soft. We ordered multiple bars so he won't run out! The order shipped right away and the samples are a very nice touch. We will definitely be back - thanks Fern Valley Soaps!
As trusty as your dad's axe!
As reliable and trusty as your dad's axe, this soap will never let you down! The most troublesome goo doesn't stand a chance! Always gets me out of a sticky situation, and easy on the nose and skin, so refreshing!
Natural Goat Milk Soap | Humboldt Hands Heavy-Duty Hand Cleaner | Original Woodsman
Absolute best soap & proprietor - I'm a repeat customer
The soap that is sold here is so wonderful. I've ordered 3 or 4 times now and often times I've ordered based on the scent description, hypoallergenic qualities and purpose (exfoliating, shaving soap, men's soap, etc. )
I have never been disappointed with any of my purchases. Not only are all of the products that I've tried exceptional quality, but the customer service is awesome too! My order always gets shipped out the day of, or the day after I place my order and I have always received my accurately packaged order (plus a couple of free samples) really fast.
I'm a life-long customer now!❤👍👍❤
Aggressive Cleaning Goat Milk Soap | Humboldt Hands | Original Woodsman
We discovered this soap at the "Legend of Bigfoot" on a CA coastal drive and we tried the aggressive soap. My husband loves it as his hands get greasy at work so I ordered more directly. I also got various soaps for the shower. Love all the fragrances Can't wait to use them. ?
Aggressive Cleaning Goat Milk Soap | Humboldt Hands | Original Woodsman
Aggressive Cleaning Goat Milk Soap | Humboldt Hands | Original Woodsman
Very good soap for my mechanic boyfriend's hands!! I gave it to him for Valentine's Day and this soap is already in the garage bathroom.
Aggressive Cleaning Goat Milk Soap | Humboldt Hands | Original Woodsman
Love the soap. Thanks for the freebies too!